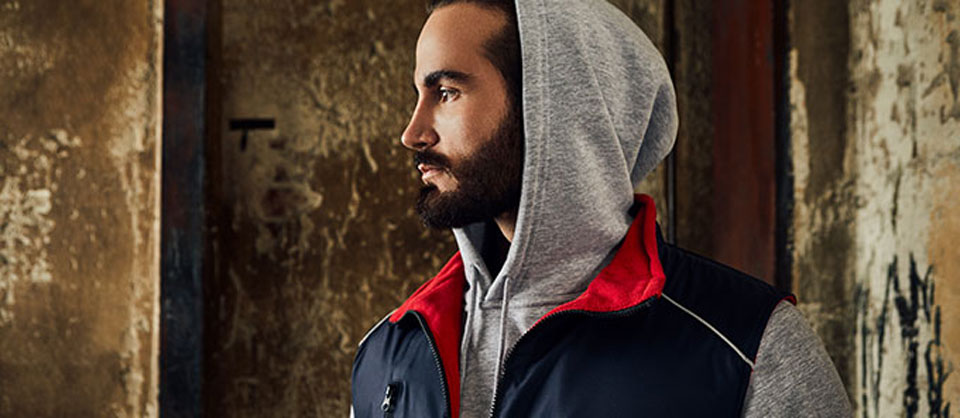 Quality is our trademark
promodoro materials
High-quality materials and careful workmanship give the promodoro collection its outstanding feel. We use 100 % combed and ring-spun cotton for the majority of our collection, and especially soft, enzymewashed cotton qualities for our fashionable wellness products. For products subject to harder wear we select a more robust cotton, polyester or elastane blend. We have a variety of different materials depending on the product. The majority of our collection is made out of soft knit fabrics, which vary in grammage and type of knit depending on the article. That's why you can find T-shirts, for example, in single jersey, rib and interlock materials such as piqué.

For our sweaters and sweat jackets we use both molton brushed, a material which is roughened to produce a fleecy inside, as well as molton unbrushed, which leaves this step out to form a pleasantly firm texture. promodoro products in the outdoor, sport and functional collections are made out of functional polyester fibres or fibre blends, which are produced using special CoolDry or antibacterial finishes. Breathable soft-shell materials, warm fleece with an anti-pilling effect or weather-proof material round off the choice and offer the right performance for every occasion !
promodoro for textile finishers
The promodoro collection mirrors those interesting developments in design, colour and materials that are currently taking place on the fast-moving fashion market. We particularly focus on the trends within the sector that are important to finish off our collection in an exciting, more diverse, and additionally, more optimal way.

In doing so, we unite the most recent developments from textile finishing technology with the most relevant fashion trends, and make them into impressive products for applications in all areas of promotion, merchandising and corporate fashion. From cotton T-shirts to shirts printed using the sublimation method.
In the VORTEX
®
Spinning Technology the ends of each fibers are spun with help of flow of compressed air. Similar like a whirl the air draws the fibers together to the yarn center. Each fiber is insured with the inner yarn and generates a stable yarn with less hairiness. The yarn is extremely durable and long-lasting. The VORTEX® yarn from cotton-polyester has resistance to abrasion and pilling. Low shrinkage and optimal colour fastness optimizes our EXCD Premium collection.
Our molton fabric used in many of our sweat items is a wonderful example of the frequently-mentioned special quality of our products. What is really special about it, though, is the number three. For unlike standard fabrics, which is knitted with two threads of a normal thickness, ours is knitted with three finer threads. Products made from this high-quality cotton fabric feel cooler, afford better thermophysiological properties and are easier to print on due to their finer texture.

These are strengths that everyone can feel on their skin and see with their own eyes.